Historically, HR hasn't received the same level of prioritization as other departments like IT, Sales, or Marketing. That's about to change. Through the collective trauma of COVID, the uncertainty of the Great Resignation, and recent mass layoffs, finding and retaining the best talent is more important than ever. One of the best ways to support employees and build great culture is making sure you have the right mental health support. 
Over the next decade we are going to see a tremendous shift in how we prioritize our capital. More specifically our human capital. Employees need the right tools to do their best work and tools to support mental health are no different. According to the APA's 2022 survey, 81% of workers agree that mental health is a key consideration in their decisions about where to work. As technology gets cheaper and more accessible and good talent becomes harder to find, optimizing support for that talent is going to become as important as having the best software. You've heard of the Tech Stack—now it's time to meet the Care Stack. 
Intro to the Care Stack
When you look across your employee population's mental health needs, it's most likely reflective of the US population. According to NAMI, 5.6% of adults experience serious mental illness, 21% experience a diagnosable mental health condition, 6.7% have a substance use disorder, and approximately 80% are either undiagnosed or have minimal to no symptoms.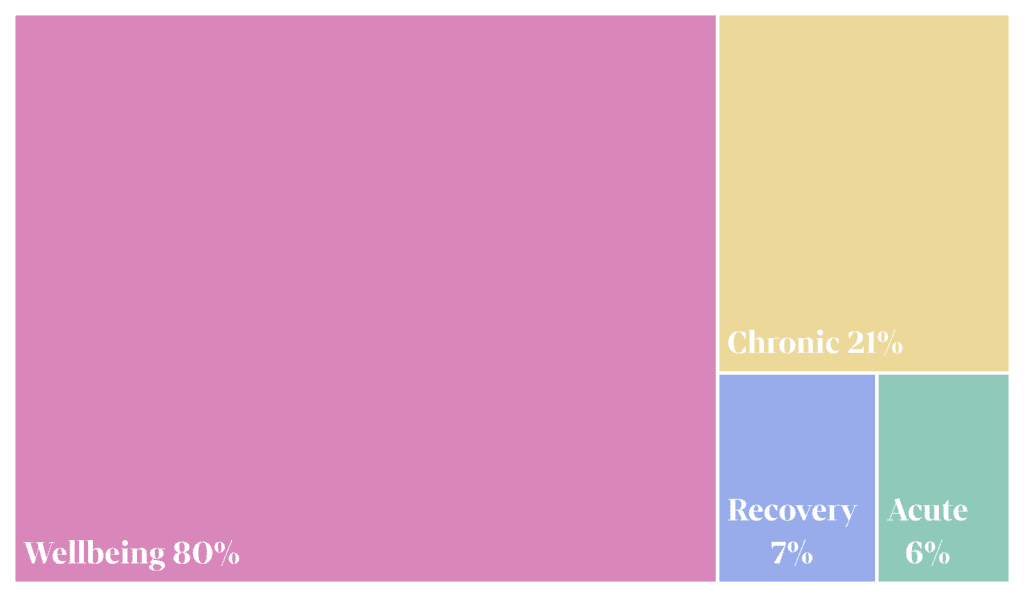 Part of the mental health crisis we are experiencing is a traditional infrastructure that is overwhelmed. According to the Health Resources and Services Administration, 155 million Americans live in areas where there is a shortage of mental health professionals. If our only mental health solution is therapy and medication, we will continue to overwhelm a fragile system. 
For decades the primary source of employee mental health support came from two sources, EAPs and Health Plans. This allowed employers to have a solution for employees in crisis. However, with high costs, low utilization, and a narrow focus, these one-size-fits-all approaches left the majority of employees at risk for burnout and escalating symptoms. We've changed a lot since then, with modern mental health companies offering everything from meditation, coaching, virtual therapy, and even medication. So why are so many companies using benefits strategies that don't fit all employee's needs? 
Going back to technology as our model, IT departments realized that employees expected more than Microsoft Office to effectively work in a technology focused era. The tech stack was created as a framework to show how and why each software application was needed. The complexity of the work necessitates multiple types of solutions and each software solution serves a different need. Those companies that didn't evolve fell behind in growth and effectiveness and lost their best talent to companies with the best resources. 
It's time we think about employee mental health in the same way. 
Why is it important
Just as your tech stack is made up of tools and services depending on the technology and business needs, your Care Stack should be designed to serve the needs of your people in an effective way. Each level has its own needs and requires different solutions to meet those needs. An employee who is dealing with low level stress and wants to feel happier and more productive may not need to see a therapist or psychiatrist and an employee who is recovering from an eating disorder will not be helped by a small allotment of EAP sessions. To simplify this we've divided employee mental health needs into four categories: 
Wellbeing
The majority of people do not have a longstanding, diagnosable mental health condition, but that doesn't mean they don't need support. It's becoming more and more common to seek out guidance through coaching or mental fitness through meditation to manage the common stresses of life. As a society we're starting to think about taking care of our mental health in a proactive way, the same way we care for our physical health. 
Recovery
Recovery may not be a part of everyone's daily vocabulary, but for people overcoming addiction, eating disorders, and chronic illness; it's a way of life. Changing behavior is difficult and takes a lot of effort and support. It also comes with stigma and shame from how society views these conditions. Ultimately, the goal of recovery is to build a new life that is free from dependency and shame and full of health and connection; with the right tools it's possible. 
Chronic
Experiencing a chronic mental health condition like depression, anxiety, or PTSD can be isolating and overwhelming. These invisible illnesses often do not get the same amount of support and understanding as a visible physical illness. However, managing a chronic mental health condition requires all of the same types of interventions: doctors visits, medication, therapies, and sometimes hospitalizations. Without the right support, managing an illness, not to mention a career and a life, can be overwhelming. 
Acute
Most people will never have to face an acute mental health crisis, which means those who do don't have a clear guidebook on what to do when they find themselves in one. What do you do when your child suffers an overdose, your partner discloses their eating disorder, or you begin to experience thoughts of suicide? The mental health system is complex and finding the right entry point to treatment can be difficult. But with the right support and access to effective and ongoing treatment a crisis doesn't have to remain that way. 
Having effective solutions for employees at every level of the Care Stack ensures that they are getting the right support at the right time and prevents needs from escalating.  
The Care Stack Landscape
The options available to employers for employee mental health support have skyrocketed over the past 10 years, accelerated by technology and widespread acceptance by individuals and employers. This has also been driven by investment in mental health startups. According to Rock Health, venture funding has increased from 35M in 2011 to 2.4B in 2020 for mental health focused companies. That means more options available, but also more complexity in finding the right solutions for your business.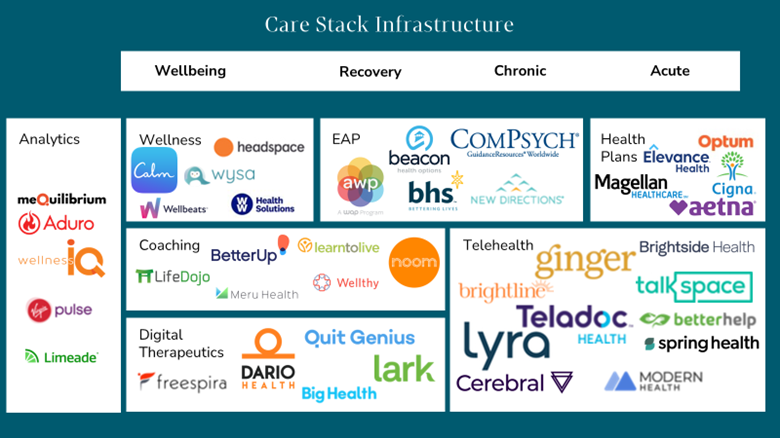 Paying attention to employee needs, returns on investment, and access to care are all important factors to determining the right combination of solutions to build your ideal Care Stack. As an example, EmeraldX, a B2B focused events and media producer and Mentera's parent company, has built a robust Care Stack focused on supporting a distributed diverse workforce. Emerald combines traditional mental health benefits through Anthem's health plan and Optum EAP with mindfulness focused wellbeing solutions, Headspace and Rebel Mindfulness, to give employees options at each level of the Care Stack. This is also supported by flexible wellbeing focused policies like remote work and unlimited PTO.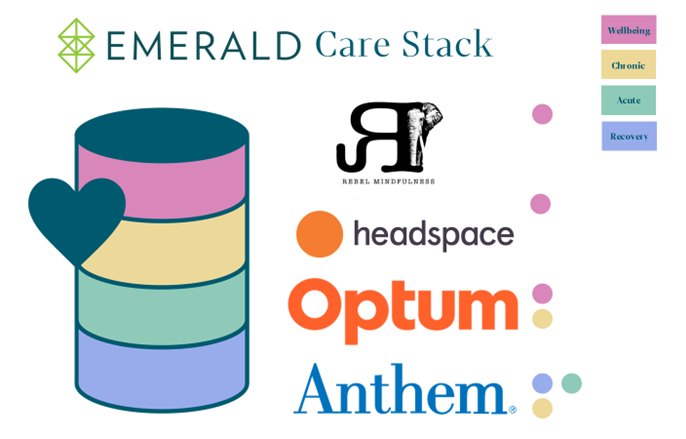 Welcome to a new era in mental health
Whether you've been leading the charge in supporting employee mental health for some time or you're just starting on your journey, using the Care Stack structure to optimize your employee mental health benefits can give you confidence that you're working to give your employees the right support. Your Care Stack gives you the competitive advantage when it comes to retaining and acquiring great talent. It's time to enter a new era where the mental health of your people and the structures created to support them are prioritized. The people revolution is poised to eclipse the techno revolution—let's make sure we're ready for it.