Let's face it—the one-size fits all approach to mental health is so outdated.
Introducing the Care Stack: a new approach for businesses looking to meet their employees' mental health needs at every level. We believe this concept's time has come and we're putting together unique experiences to share it with the world.  
Mentera brings together leaders and influencers at top companies across industries looking for the best solutions to support employee mental health. Together in this virtual and in person experience, we'll take the time to learn through real conversations with the thought leaders, innovators and champions helping to create a new era of mental health.
Virtual Agenda
Monday, October 10 | Intro to the Care Stack
1:00 – 2:00 PM EST
Dave Allman, Chief Growth + Innovation Officer, Wellbeing @ Work
Wilfred Krenn, Brand Leader, Mentera
Wendy Wiesman, Brand Leader, Mentera
It's time to change the way we think about mental health in the workplace. Doing more of the same will not create the kind of radical change needed to shift the mental health crisis. Enter the Care Stack, it's like your company's technology stack, but for mental health solutions. Mentera provides the strategy for revolutionizing your mental health benefits structure. In this session you'll get an overview of the Care Stack, as well as an introduction to a special partnership that will give you a chance to start your own journey to wellbeing.
Tuesday, October 11 | Wellbeing
1:00 – 2:00 PM EST
Nathan Romano, President, Atalaya
Amelia Wilcox, CEO + Founder, Nivati

The wellbeing of your employees is often one of the biggest opportunities for support that companies miss. The majority of people in the workplace do not have a mental health diagnosis, but that doesn't mean that they don't need to work on their mental health. Investing in employee wellbeing not only improves employee experience, but also can prevent escalation of needs. In this session, you'll hear about how building mental health and wellbeing into your life can make a huge difference and the solutions that are giving each of us the opportunity to take care of our wellbeing.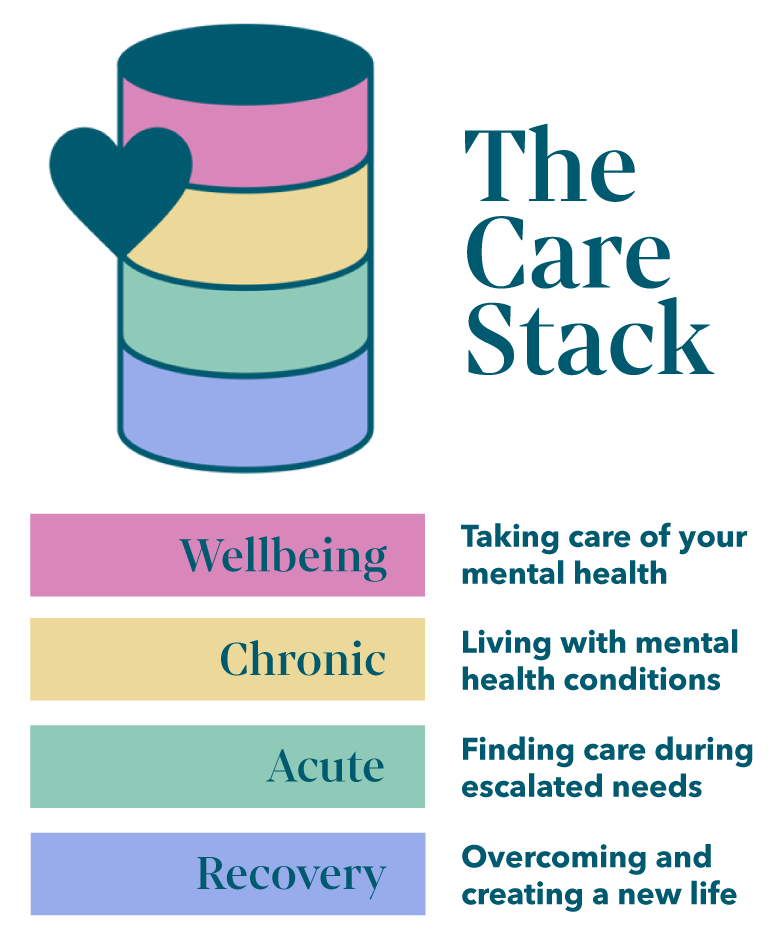 Wednesday, October 12 | Chronic
1:00 – 2:00 PM EST
Amy Dixon, 2020 Paratriathlon National Champion, Motivational Speaker, President of Glaucoma Eyes International

Managing a mental health condition alone is difficult work, add on top of that a career, relationships, and living your life, it can become overwhelming. Access to quality care can be challenging, whether you're looking for a therapist, psychiatrist or outpatient program, finding the right provider can make all the difference. In this session you'll hear about overcoming challenges and adversity through resilience and support, as well as solutions that make living a mental health condition manageable.
Thursday, October 13 | Acute
1:00 – 2:00 PM EST
In times of crisis knowing where to go for the right treatment is imperative. Healthcare costs are high and finding treatment can be difficult depending on what's available to you. Most of us have never had to cope with a mental health crisis for ourselves or someone close to us and having a plan can make all the difference in the world. In this session you'll get a better sense of what the reality of access to acute care is in our world and the solutions that are expanding that access for everyone.
Friday, October 14 | Recovery
1:00 – 2:00 PM EST
Dr. Steven Pratt, Senior Medical Director, Magellan Healthcare
Rebuilding your life after living with a longstanding co-occurring disorder, like addiction or eating disorders, can be just as challenging as doing the work to overcome them. Life in recovery requires specialized support in order to protect from relapse and create opportunities for healthy living. In this session you'll hear about what it means to live in recovery and the solutions that are giving people a new lease on life through better treatment.
Each day of the virtual event will include:
Intro to the Care Stack: Brief intro from Mentera team on the Care Stack concept and focus for the day.
Keynote/POV: Inspiring and engaging stories from individuals with real world experience living within each level of the care stack.
Use-case: In action examples of companies offering solutions for each level of the Care Stack giving an example of what that support looks like.
Mentera Moment: Live round table discussion featuring audience questions and interactions between presentations, giving you an opportunity to co-create solutions for the new era of mental health.
The Care Stack Summit Meetup
Presenting sponsor:


Thursday, October 13 1:00 – 6:00 PM CST
Hewing Hotel, Minneapolis, MN
Experience an afternoon of conversations on mental health in the workplace with innovators, industry leaders, workplace professionals, and people leaders of all kinds.
The Real Cost of Better Mental Health: What you put in your care stack is dependent on many things. From your employee population type and your budget to your ability to create access, and of course the how and why people will engage. In this salon-like conversation experience we'll touch on a few of the many things that matter when it comes to cost considerations related to building a care stack of your very own.
Tickets: $50
Request more info on discounts and VIP tickets
Meetup Agenda
The Price of Acquiring Top Talent: A Use Case for Mental Health as a Starting Point
Ali Delaney, Ed. C., Director of HR, Landscape Structures, Inc.
The evolving workplace environment, responding to the Great Resignation and addressing the many factors employees now use to determine where they work and why they go or stay, means taking in an honest point of view on what it means to employees to have mental health services readily available to them.
Join us for this unique use case and get new perspective on how Landscape Structures considers five different areas related to their mental health service offerings and then how placing them at the forefront of their benefit offerings makes all the difference. At the end of the day, mental health offerings are no longer a want to have, but rather a must have for this mostly blue-collar organization.
Wellbeing @ Work, Gallup
Dave Allman, Chief Growth + Innovation Officer, Wellbeing @ Work
Dante Pannell, VP of Business Development + Creative, Wellbeing @ Work
Two major factors influence employee performance, Gallup has found: engagement and wellbeing. Learn the details behind the classification of what it means to be a thriving, struggling or suffering employee and how to drive toward an employee population that delivers high levels of engagement and wellbeing, they're not one in the same. Leaders can make a substantial difference in their employees' lives by including wellbeing principles and this session is just the one that will help you better understand how to do just that. 
Care Stack Solution Set
Wilfred Krenn, Brand Leader, Mentera
Wendy Wiesman, Brand Leader, Mentera
The solution to better mental health is not a one-size-fits-all approach. You'll need care solutions at every stage – from wellbeing, to acute, to chronic and recovery – the landscape is broad and deep. During this session you'll get a sneak peek behind the what, how and why for building a Care Stack of your very own.    
The Secret Savings of a Good Night's Sleep
Sarah Moe, Founder + CEO, Sleep Health Specialists
Kiki Walker, Coach + Mentera Advisor
What can we control when it comes to better mental health each and every day? Our sleep, that's what! Let's hear from expert sleep specialist, Sarah Moe and wellness coach Kiki Walker on the ways the lack of sleep impacts our ability to learn, produce and show up for others. What it means for our brain to engage in regular and productive sleep activity and how prioritizing a good night's sleep saves us time has never been more important to understand for yourself and as a leader of your team.
Learn new practices and tips in addition to the insight into what sleep education in the workplace can look like too.
The Data Hack to Better Mental Health
Barbara Flitsch, CEO + Founder, AMP, LLC
Ruth Lowenthal, VP Total Rewards, Xcel Energy
The means to measuring the value of workplace mental health service offerings is different for every organization. Join us for this use case on how Xcel Energy is reviewing, evaluating and adjusting their offerings for their employee population based on what their data has told them and what they're hearing. Understand the limitations to their evaluation and the why behind their initial focus centered on wellbeing, along with a share-out on the work they did to add behavioral health service offerings for families and kids too. 
Sponsorship Opportunities 
Grow your business while making a difference as a Care Stack Summit sponsor.